Director: Nadia Tass is a notable and successful Greek-Australian film director. She also directs for television and theatre and often acts as co-producer in Cascade Film's projects, the company she owns with her husband David Parker. Tass's first feature film direction was 'Malcolm' (1986) which received critical acclaim throughout the world. It won eight Australian Film Institute Awards including Best Director and Best Film and Tass and Parker won the prestigious Byron Kennedy Award for the pursuit of excellence. Tass subsequently directed her second feature 'Rikky and Pete' (1988) a comedy about siblings and their journey to outback Australia. The film was praised in America and Europe for its in-depth portrayal of the characters' brother/sister relationship and for its fineness and experienced a successful release in Australia.
The next film she directed was comedy feature 'The Big Steal' (1990), the story of a teenage boy who buys a car to impress a girl but all he attracts is trouble which was a success at the box office for the Australian industry. 'The Big Steal' was nominated for nine Australian Film Institute awards and experienced high sales internationally. In 1990 Nadia Tass directed her first film in the United States, 'Pure Luck', produced for Universal Studios, starring Danny Glover, Martin Short and Sam Wanamaker. The film opened on 1600 screens in August 1991. In 1996, Tass directed the feature 'Mr Reliable' for PolyGram. The film premiered at the 1996 Edinburgh Film Festival before being released in Britain and Australia. 'Mr Reliable' was nominated for 1996 Australian Film Institute Awards, including Best Film. Since 'Amy', Tass has mainly directed for television including ABC's 'The Miracle Worker' but will shortly return once again to film directing in the adaptation of Mary Karr's best-seller, 'The Liars' Club', and also the English filmed comedy 'Guns, Money and Home Cooking' starring Joan Plowright. She is also currently developing an American film for Jodie Foster's Egg Pictures.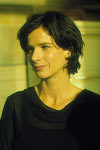 Lead Actor:

Rachel Griffiths

'Muriel's Wedding' (1994) first brought Griffiths to public attention and critical recognition. Her performance as Muriel's best friend Rhonda won her an Australian Film Institute award. Griffiths won the Australian Film Critics Circle Award in 1995 for her roles during the year such as 'Cosi' (1996), 'Children of the Revolution' (1996), English film 'Jude' (1996) with Christopher Eccleston and Kate Winslet, and 'To Have and To Hold' (1997). Griffiths was also reunited with 'Muriel's Wedding' director P.J Hogan on her first Hollywood film 'My Best Friend's Wedding' starring Julia Roberts. Since filming 'Amy', Griffiths has worked on a film shot in Ireland 'Divorcing Jack' (1998) a film based on the popular novel of the same name. Also that year Griffiths was nominated for a Best Supporting Actress Academy Award for her portrayal in 'Hilary and Jackie' (1998), the biographical feature on the life of the cellist Jacqueline Du Pre with Griffiths playing her sister, Hilary Du Pru. She also starred in Australian film 'Me, Myself and I'. (1999) Giffiths recently completed 'Blow' (2001) co-starring Johnny Depp, Penelope Cruz and Ray Liotta.

After beginning as a television actor, Griffiths became internationally famous due to her memorable role as Rhonda in Muriel's Wedding which led her on a path of quality film pursuits. Tass has a reputation of utilising the more talented actors for her films and this is why she was interested in AFI winning Griffiths for the role of Tanya. With the Oscar nomination and Griffiths gradual infiltration into Hollywood it appears Tass is an expert at casting. Although her first time working with Tass, Griffiths previously acted with Mendlesohn in 'Cosi' and with Susie Porter in 'Welcome to Woop Woop'.




Lead Actor:

Ben Mendleson

First rose to prominence in popular Australian television series such as 'The Henderson Kids' and 'The Flying Doctors'. His transition into film occurred when he was cast by John Duigan for the role of Trevor in 'The Year My Voice Broke'(1987) and subsequently won Australian Film Institute Award for Best Supporting Actor for his performance. His first lead role followed in Tass's 'The Big Steal' (1990) and he was again nominated for Best Actor by the Australian Film Institute. He has appeared in 'Spotswood' (1991) with Anthony Hopkins, 'Sirens' (1994) with Elle McPherson and won the Australian Film Critics Circle Award for Best Supporting Actor for his role in 'Metal Skin' (1994). Cosi (1996) he had a leading role acting alongside 'Muriel's Wedding' star Toni Collette. Recently he has completed filming 'Sample People' (2000) and Hollywood blockbuster 'Vertical Limit' (2000) and Australian film 'Mullet' (2001) which also includes 'Amy' co-star Susie Porter.

Mendlesohn is another critically acclaimed Australian actor and Tass must have desired to recapture the success and talent of 'The Big Steal ' to cast him as a lead in yet another one of her films. Like Griffiths, he is an AFI winner and Tass appears to like award winning leads. Like Griffiths, he has also obtained Hollywood attention and films like 'Amy ' display his versatility and acting strength to enable this transition.


It is difficult to separate the work of Tass from Parker as they are a close working team and a married couple, and, it is unclear where one ends and the other begins. However, Parker did not write the script for 'Mr Reliable' which may shed some light on Tass's direction. All Tass's Australian films centre around people and relationships and specifically present a lead character that is marginalised by society. The films are set within working class culture which is where Tass, herself, grew up after migrating from Greece with her parents. The central characters also have the film titled after them, excluding 'The Big Steal'. Tass directed films tend to have one of two main themes and sometimes include both. The first type deals with social disability such as the socially inept Malcolm or the psychologically disturbed Amy. The handicapped characters also have a hidden talent such as singing or exceptional mechanical skills. Similarly, in 'Mr Reliable', Wally skilfully and miraculously receives no consequences from his siege and becomes a folk hero. The second type has the central character involved in criminal activity such as 'Mr Reliable', 'The Big Steal' and 'Malcolm'. Even in 'Amy', Tanya has to hide her daughter from the clutches of welfare and education authorities. Tass is constantly questioning society's ideological rules, promoting the rights of the individual and their individuality. Tass's films also include an array of quirky and eccentric characters which provide the humour for her films in an unique Australian way. She recognises that Australian's enjoy poking fun at their culture and laughing at themselves and comprehends, that during suffering of a dysfunctional life, moments of light hearted relief are experienced as living cannot be a continuous procession of sadness. Her understanding and perceived worthiness of outsiders and finding humour amidst unfortunate circumstances could be influenced by Tass's relationship with her brother whom the character of Malcolm was based upon. When asked about her personal emotional investment in making that film Tass replied she gave "everything". "It's my celebration of my relationship with the most special human being in my life: my brother. You see, he could be perceived as such a useless person, shunned, on the outskirts of society, but what I'm pleading for people to do is reassess, look at this human being and see this human being's talent and what he can contribute. Let's embrace these people." (Malone, 2001, p.139.) Nobody in Tass's family suffered from selective mutism but it is her compassion derived possibly from her own life experiences that allows her to relate to the pain of Amy and her eventual healing through the caring of other people. Tass's direction appears to emphasise the importance of community, family and friendship to combat isolation and enhance the positive development of individuals. She attempts to draw out the goodness in her characters and make them appear likeable despite their original behaviour such as Wally, a law breaker and Mendlesohn's Robert who is unkind to Amy when he first meets her. Instead of their imperfections, Tass concentrates on their hearts of gold. Lastly, Tass has a tendency to recycle the actors in her films as Colin Friels starred in both 'Malcolm' and 'Mr Reliable'. 'Amy' actors Frank Gallacher (Dr Urquhart), Susie Porter (Anny), Jeremy Trigatti (Zac) and John Tass Parker (Republican Boy) were also in the cast of 'Mr Reliable'. Ben Mendlesohn (Robert) also co-starred in 'The Big Steal'. Tass has an appreciation for the work of certain actors and only casts performers of high acting ability in her films.



Lead Actor:

Alana de Roma

Acting: de Roma's debut was in 'Amy' after just enrolling as a student at Sydney talent school Brent Street Kids. The star of 'Amy' was handpicked by Tass after an exhaustive international search. "Alana is a naturally gifted actress, completely unspoiled and thoroughly credible in every choice and gesture she makes. She instinctively understood the character, and it was a joy and a revelation to watch her express every facet of the role so effortlessly and eloquently. I would love to work with her again." (Tass, 2000, amythemovie.com) The actress has had no further major roles to date but de Roma did appear in the short film 'Little Echo Lost' by student Armagon Ballantine from the Australian Film, Television and Radio School. The film has a cast of three de Roma performing along side Leroy Page and critically acclaimed Australian actor HugoWeaving. 'Little Echo Lost' was screened at the 1999 Telluride Film Festival.

Singing: Duet with Nick Barker 'You and Me' and her version of 'There Ain't No Sunshine' both are featured on the 'Amy' soundtrack. After her performance in the film, de Roma signed a contract with Festival records. Performed 'Part of Your World' on the soundtrack of the special collector's edition of Disney's 28th animated classic 'The Little Mermaid.'

As de Roma has not acted in anything previous to 'Amy,' and the short is not accessible for my viewing, it is difficult to situate the actress in relation to the feature film. However, she appears to have a bright future ahead of her if she wishes to continue performing, based on her work in her debut role.



Scriptwriter: David Parker

'Malcolm' was the first feature film which Parker wrote (and shot and produced with director Nadia Tass). The film won eight Australian Film Institute awards, numerous international awards and Parker was awarded the Premier's Literary Award in NSW as well as the Australian Film Critics' Circle Award for Best Screenplay. Again working with director, co-producer and wife, Tass, Parker wrote 'Rikky and Pete' (1988), followed by 'The Big Steal' (1990) the latter very successful with local audiences and received nine Australian Film Institute nominations, winning Parker the award for Best Screenplay. Since 'Amy', Parker, up until recently, has concentrated on cinematography and producing rather than scriptwriting but is currently writing a screenplay for a Cascade Films production to be shot in Louisiana in 2001.

Predominantly a drama, 'Amy' breaks Parker's trend of writing pure comedy films. Parker, conversely, did manage to write certain comic and musical elements into the script. Parker says 'Amy' is; less comedic than our other films . . . but there is obviously something odd about a film where people sing a lot but it isnt a musical. (Urban, 1998.) Comparisons can be drawn between 'Amy' and his first screenplay, 'Malcolm' due to both dealing with people with a disability and their special talent that touches the hearts of others. I suppose we like telling stories about how the advantaged can learn from the disadvantaged. (Urban, 1998.) Parker attempts to find the extraordinarily delightful in the usually mundane working class suburbs. His offbeat, humorous scripts reinforce; "Australian suburbia, its back streets and its dreams," (O'Regan: 1998, p.10.) tapping into the Australianised imagination.

Cinematography: David Parker

David Parker is regarded as one of the best film stills photographer in Australia having worked on film projects such as 'A Town Like Alice', 'The Man From Snowy River', 'Phar Lap' and 'Burke and Wills'. In 1984, Parker was director of photography on the low budget feature 'Mr B Says No', which won a Golden Camera Award at the Chicago Film Festival. He was the cinematographer for both 'Malcolm' (1986) and Rikky and Pete (1988). In 1989 he shot 'The Outsiders' for Francis Ford Coppola, the pilot for the television series on the Fox Network and was the cinematographer for 'The Big Steal' (1990). In 1991 Parker shot his first feature in the United States 'Pure Luck' for Universal Studios. The following year he produced and shot the three hour mini-series 'Stark' for the BBC based on Ben Elton's novel with Tass directing. Parker's work on 'Stark' won him the Australian Cinematographer's Society Award for Best Achievement in Cinematography in 1993. David Parker was cinematographer for 'Mr Reliable' (1996) and the same year completed principal photography on his feature film directorial debut 'Diana and Me'. His recent work includes cinematographer for 'The Miracle Worker' for Disney and ABC television.

Due to Parker's outstanding reputation as a cinematographer, 'Amy' is a continuance in his repertoire of quality shooting. The movie is shot with a professional, feature film aesthetic unlike low budget Australian films that resemble television camera work rather than cinema. His skills are superbly displayed in the grainy, hazy flashback rock concert scenes as well as the emotional drama, symbolism and ensemble musical comedy moments. 'Amy' shares a panoramic, vibrant Australian landscape with 'The Man From Snowy River' combined with the urban style decay originally reflected in 'Malcolm's' studio and exterior camera work.